My Blog
Posts for: December, 2017
By Family and Aesthetic Dentistry
December 20, 2017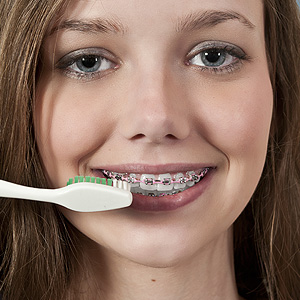 Your child has had braces for a few months and making good progress with correcting a poor bite (malocclusion), but you've also noticed something else: his gums are becoming red and swollen.
These are symptoms of gingivitis, a periodontal (gum) disease. It's an infection that arises when plaque, a thin film of bacteria and food particles, isn't adequately removed from teeth with daily brushing and flossing. The braces increase the risk for gingivitis.
This is because the hardware — metal or plastic brackets cemented to the teeth and joined together by metal bands — makes it more difficult to reach many areas of the teeth with a brush or floss string. The plaque left behind can trigger an infection that causes inflammation (swelling) and bleeding.
To exacerbate the situation, gums don't always take well to braces and can react by overgrowing. Wearing braces may also coincide with a teenager's surge in hormones that can accelerate the infection. Untreated, gingivitis can develop into advanced stages of disease that may eventually cause tooth loss. The effect is also heightened as we're orthodontically putting stress on teeth to move them.
You can stay ahead of gingivitis through extra diligence with daily hygiene, especially taking a little more time to adequately get to all tooth surfaces with your brush and floss. It may also help to switch to a motorized brush or one designed to work around braces. You can make flossing easier by using special threaders to get around the wires or a water flosser that removes plaque with a pulsating water stream.
And don't forget regular dental visits while wearing braces: we can monitor and treat overgrowth, perform thorough dental cleanings and treat occurrences of gingivitis. In some cases you may need to visit a periodontist, a specialist in gums and supporting teeth structures, for more advanced treatment. And if the disease becomes extensive, the braces may need to be removed temporarily to treat the gums and allow them to heal.
Orthodontic treatment is important for not only creating a new smile but also improving your teeth's function. Keeping a close eye out for gum disease will make sure it doesn't sidetrack your efforts in gaining straighter teeth.
If you would like more information on dental care during orthodontics, please contact us or schedule an appointment for a consultation. You can also learn more about this topic by reading the Dear Doctor magazine article "Gum Swelling During Orthodontics."
By Family and Aesthetic Dentistry
December 05, 2017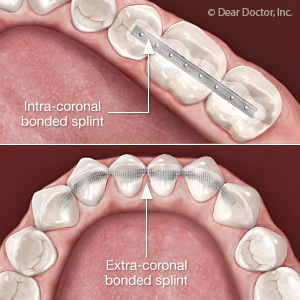 Although periodontal (gum) disease usually affects your gums first, your teeth may eventually suffer. That's because the disease can damage both attaching gum tissues and supporting bone.
One advanced sign of this is when one or more teeth become loose. A loose tooth is an alarm bell that you're about to lose it.
Fortunately, we can often treat loose diseased teeth with a two-phase approach. First and foremost, we need to bring the gum infection under control by removing plaque and calculus (tartar) — the "fuel" for the infection — from all tooth and gum surfaces. Depending on how extensive it is, we have options: we can use specially designed hand instruments to remove plaque and calculus, ultrasonic equipment that loosens and flushes plaque and calculus away, or, if necessary, conventional or laser surgery.
Depending on the extent of the infection, in some cases we may need to use regenerative surgical techniques like gum and bone grafting to replace lost tissue. Healing takes time, though, which leads to the second phase of treatment — securing the loose tooth during gum healing.
The most common way is through a bite adjustment, where teeth are altered to equilibrate chewing forces evenly. This results in all the teeth being hit at the same time allowing the loose teeth to heal and tighten up.
Another option is splinting teeth together. Although there are different methods, the basic idea is to join the loose teeth with stable teeth like pickets in a fence. One way is to bond splinting material across the back surfaces of the involved teeth. Another way is to cut in a small channel across the teeth and insert and bond a rigid strip of metal to splint the teeth in place.
The splint is usually a temporary measure while the gums heal. In some situations, though, we may need to perform a permanent splint by crowning the affected teeth and then splinting the crowns together. If you have a grinding habit we may also prescribe a night guard to limit the damage done while you sleep.
Before deciding on which technique is best for you, we would first need to evaluate the health of the affected teeth to see whether the effort would be worth it. It could be the tooth's supporting bone structure has become so deteriorated that it might be better to extract the tooth and consider an implant or other replacement. First, though, we would attempt if at all practical to save the tooth — and the sooner we begin treating it, the better your chances for such an outcome.
If you would like more information on loose teeth and gum disease, please contact us or schedule an appointment for a consultation. You can also learn more about this topic by reading the Dear Doctor magazine article "Treatment for Loose Teeth."